Are you looking for the perfect throw pillows to complete your sofa's look? Finding the right ones can be challenging, but it can also be fun. Throw pillows are an easy and affordable way to spruce up the look of your living room and make it look more inviting and comfortable. Here's a guide on how to choose throw pillows for a sofa.
Consider the Sofa's Style
The first step to choosing the right throw pillows for your sofa is to consider its style. The pillows you choose should reflect the style of your sofa. If your sofa is a classic style, for example, choose pillows with a traditional look. If your sofa is more modern, look for pillows with more modern designs.
Choose the Right Size
When it comes to throw pillows, the size is just as important as the style. If the pillows are too small, they won't be comfortable and won't look good on the sofa. On the other hand, if they're too big, they can look overwhelming. To find the right size, measure your sofa and then choose pillows that are slightly larger than the measurements.
Pick the Right Color
The color of the pillows you choose will also affect the overall look of your sofa. If your sofa is a neutral color, you can choose bright and bold colors for the pillows to make a statement. If your sofa is already bold and colorful, choose more neutral colors for the pillows to help tone down the look.
Choose the Right Material
When it comes to choosing the right material for your throw pillows, you'll want to consider how often the pillows will be used. For pillows that will be used frequently, choose a durable material such as cotton or linen. For pillows that won't be used often, you can choose a more delicate material such as silk or velvet.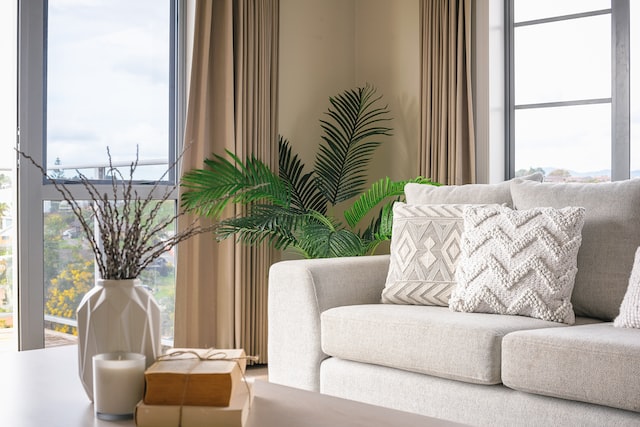 Other Factors to Consider
In addition to the style, size, color, and material of the pillows, there are a few other factors to consider.
The pattern: Look for pillows with patterns that complement the sofa's overall look.
The shape: Choose pillows in a variety of shapes, such as square, rectangle, or round.
The fill: Choose a fill that is soft and comfortable.
Conclusion
Choosing the right throw pillows for your sofa can be a fun and rewarding experience. Just remember to consider the style, size, color, material, pattern, shape, and fill of the pillows to ensure that you end up with the perfect look for your living room.